Health

Innovation

Support

has the experience and proven ability to provide the maximum Clarity of Concept for the minimum cost
Disclosure Document
Making a good first impression on paper
Some innovations will exist as prototypes but it is essential that the key elements of the idea are clearly captured on paper. This Disclosure Document is an important record of the confidential information that is being disclosed under a confidentiality agreement called a Non-Disclosure Agreement. It is vital to ensure that the Disclosure Document forms the best possible description of the innovation because of the risk that key decision makers will base their decisions on just the couple of pages of information in front of them.
Computer Aided Design (CAD)
CAD used as dimensionally accurate drawings on their own or as precursor to 3D printing
Health Innovation Support has CAD designers that can take the roughest sketch and turn it into a clear, three-dimensional drawing. This enables the innovator to make modifications and refinements at negligible cost and the drawings are of a quality that enables them to be used as illustrations in the Disclosure Document.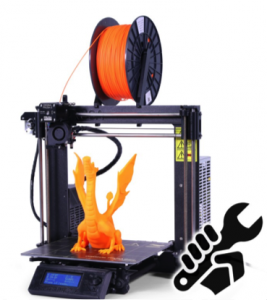 3D Printing
(or additive layer manufacturing) is a great tool for innovators
We can take the CAD drawing and use it to program a 3D printer to create a three-dimensional model prototype of the innovation. We have a Prusa i3 MK2 printer (see illustration below) which allows us to print an initial concept testing prototype at a nominal cost.  Printing a final high quality print would normally incur an additional cost but we can use our contacts and materials knowledge to keep this cost to a minimum.
The 3D printed prototype may well not be a working model of the innovation but it can still be used to demonstrate a concept when obtaining feedback. 3D prints can also be used to take photographs putting the innovation clearly into the context in which it would be used. In this way the photographs can become a powerful tool when ensuring the best clarity of concept in a Disclosure Document.
Prototyping
For developing, testing and demonstrating a concept
We have prototyped a wide variety of NHS innovations using polymorph, electronics, cardboard, laminating cards and even a scale model to assess the feasibility of an innovation using an action figure. These prototypes are still confidential but as the resulting products get launched, they will be added to the website.